MC City Adult Trike
Makes riding more easier, especially for women and seniors.
MC City 7-speed trike includes:


An upgraded seat with backrest
A stable three-wheel design
A step-through frame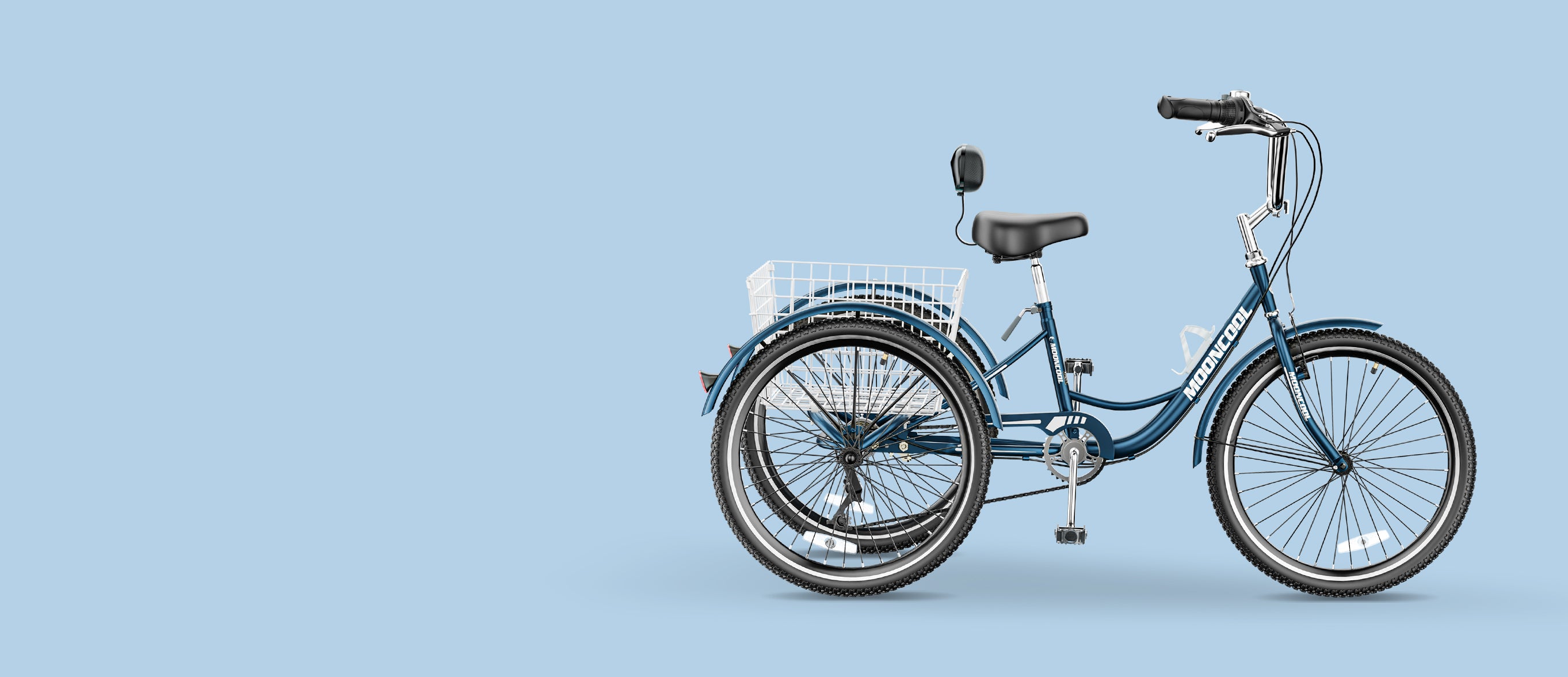 Mooncool City Trike
Go Green and Go Fast for Commuting
3 Wheels
More Stable and Safer with Three-wheel
7 Speed
Easier to Handle Different Terrain Changes
350lbs
Sturdy Steel Frame Supports Up to 350lbs
Seat & Basket
The classic trikes come equipped with a big basket making them a great choice for picnics or shopping and storing groceries with a capacity of 50lbs and a wider seat with adjustable handlebars that allow for a more upright riding position.
Rear Axle Gear
Compared to traditional bicycles, Mooncool trikes with a low step-through steel frame are an excellent option for people who want to stay active without putting too much strain on their joints or muscles. 7-speed adjustable gears make handling terrain changes on uphills, downhills, and flat roads easier.
Double Wall Rims
Double-walled rims are significantly stronger and better than single-wall rims, making them ideal for use in different terrain conditions and they're more durable in comparison.
Specifications
Fork
25.4*22.2*212mm, steel fork
Tire
26*1.95 inch black bike tire
Handlebar
22.2*620*1.4T H:200mm frame handlebar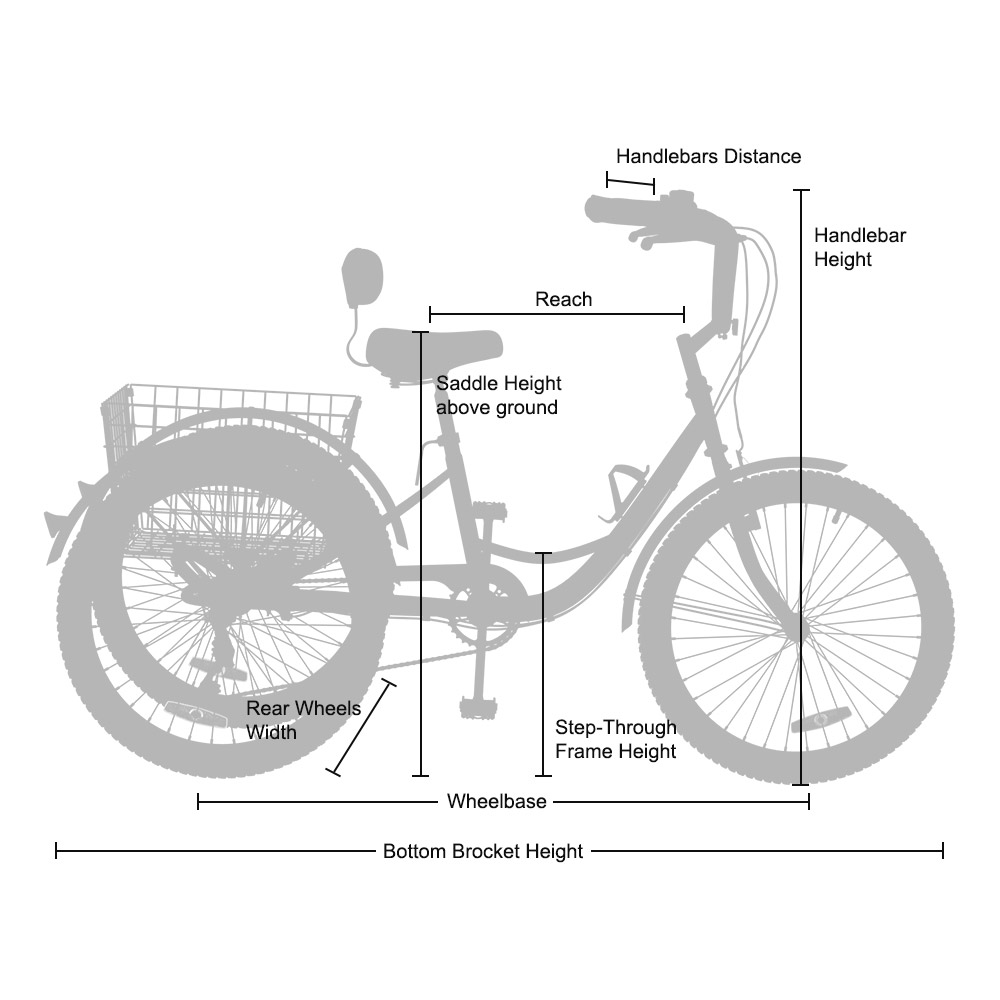 Seat Height:                      34.6"~39.4"
Handlebar Distance:      25"
Reach:                                21.6"
Handlebar Height:          39"~51"
Frame Height:                  16.9"
Rear Wheels Width:        28.3"
Wheelbase:                       45.3"
Bottom Brocket Height:  66"
Payload Capacity:           350lbs
What is the suitable height for different sizes of tricycles?

24" wheel suitable for rider height: 4'11" - 5'9"   (150cm-176cm) Electric Tricycle add 2" into 5'11" /180
26" wheel suitable for rider height: 5'3" - 6'2"   (160cm-187.5cm)
What is the size of rear wheel spacing?

The rear wheel spacing (24",26" tricycle) all have the same size of 27.5 inches
Could you tell me what the step through height is?

For 24" tires about 14"
For 26" tires about 15"
Where is the serial number?

The serial number of the tricycle is located on the frame near the front sprocket.
This product is rated 5.0 of 5.0 stars.
It has received 1 review.
Overall good bike....
Hope this review helps you....first the negatives. Bike came in wrong color. I picked darker purple, came in lighter shade. Wife liked it anyway. The bike was a purchase for her.
The derailed and brake adjustment are harder than expected. Directions could have been better. Can I suggest a video by your company instead of the photos included in shipment. It would have made understanding it easier.
The clips that hold the basket together are not easy to use, or as efficient as simple zip ties. I suggest you assemble one yourself to compare.
All that being said....it is a solidly constructed bike that was relatively easy to assemble, and comfortable to ride. Right price as well. Although I hope not to, I would buy one again.