Category
Young Riders
Seniors
Disability Needs
Main Focus
Adventure, Efficiency, Style
Comfort, Safety, Independence
Accessibility, Comfort, Independence
Features
Powerful motors, long range, cargo capacity

Suspension, upright posture, adjustable components

Step-through frame, stability, accessible components
Commuting

500-750W Motor
15-25 mph Speed
Step-through Frame
Hydraulic Brakes
LED/LCD Display
Puncture-resistant Tires
Suspension
Cargo Storage

Suspension
Padded Seat
Upright Posture
Throttle & Brakes
Rear Basket
Adjustable Components
Bright Lighting

Step-through Frame
Adjustable Torque
Cushioned Seat
Adjustable Pedals
Hydraulic Brakes

Adventure

Aluminum Frame
Front & Rear Suspension
35-50 mile Range
Swappable Batteries
Bright Lighting

Motor Power
Tread Tires
Rear Basket
Integrated Lights
Phone Mount

Low Center of Gravity
Wide Fat Tires
Tire Treads
Suspension Front Fork
Simple Display

Hauling Gear

Steel Frame
High Cargo Capacity
Cargo Trailer Option
Waterproof Storage
Disc Brakes

High-capacity rear basket with low-effort closure
reinforced double-rim wheels for stability

Storage with ergonomic access
Step-through frame for easy mount/dismount
Puncture-resistant thick tires for reliability

Touring Comfort

Step-through Frame
Padded Seat
Adjustable Handlebars
Removable Batteries
Suspension
Anti-rust Coatings

Upright Posture
Cushioned Seat with Backrest
Integrated Lights
Bell/Horn
Rearview Mirrors
Bright Colors and Accessories

Ergonomic Design
Memory Foam Seat
Progressive Acceleration
Easy-Grip Handles
Calibrated Front Shocks

Exercise

Resistance control
manual pedal mode
mode pedal operation
(electric/manual)

Pedal Assist
Adjustable Seat/Bars
Integrated Bell/Lights
Carrier for Essentials

Gel-cushioned seat for extended comfort
Hub motor with low vibration

Sightseeing

adjustable suspension for smooth rides
lightweight step- through frame for agility.

Motor Stability
Tires for Traction
Rear Basket
Night Riding Features

Smooth suspension system tailored for sensitive riders

Socializing

Compact design for group parking
easy-grip handlebars
quick adjust seat for varying rider heights

Upright Conversational Posture
Comfortable Seat
Group Ride Features

Long-range battery for extended meetups

Special Needs

Grip strength adjustment (5-20kg)
Ultra-light frame under 40kg

Tailored for arthritis, loss of strength/flexibility, balance issues

Tailored for Lower Limb, Balance, and Joint Disorders
Introduction
With the rising popularity of electric tricycles, new riders are faced with the challenge of selecting the right e-trike for their needs from the many models available. By outlining key considerations for various groups based on priorities like performance, terrain, comfort, capacity, and accessibility, this guide aims to help buyers weigh the ideal features and specifications so they can confidently choose the perfect electric trike to match their goals and enhance their mobility. Whether you desire stability, hauling power, or increased accessibility, there is an e-trike to suit your needs.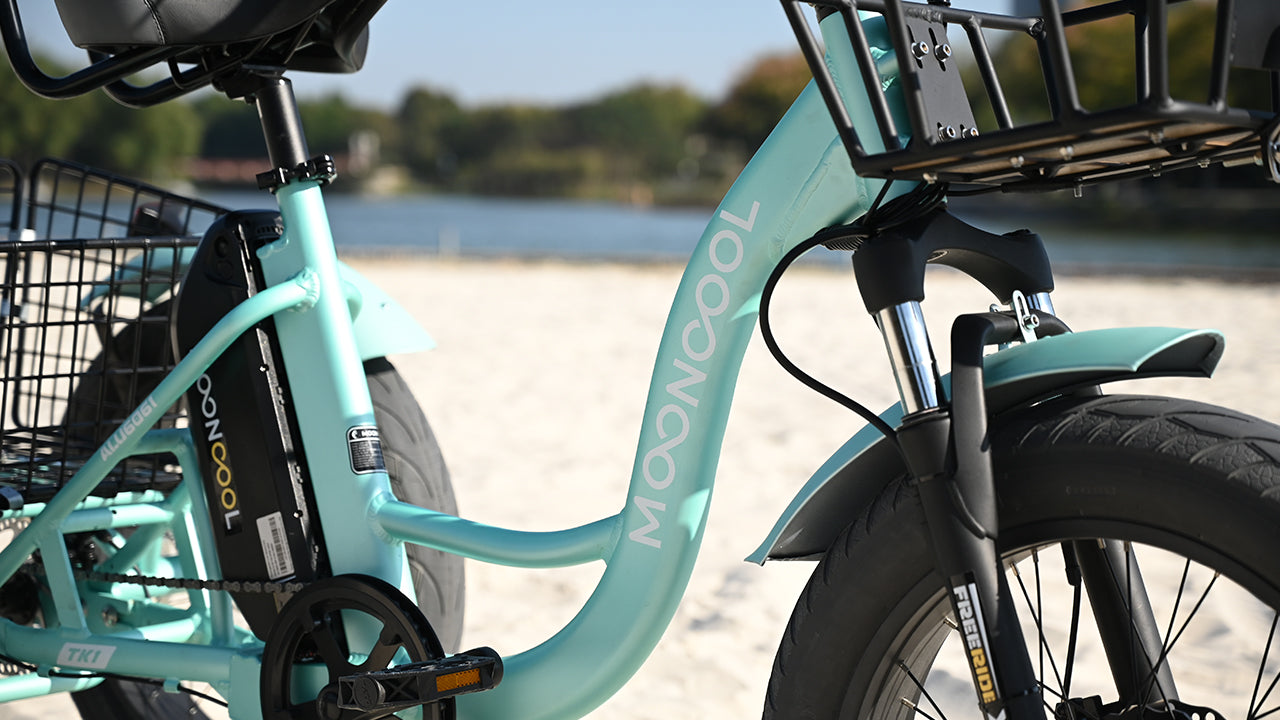 1. Considerations for Young Riders When Choosing a 3-Wheel E-bike
For young riders, choosing a three-wheel e-bike is not just about embracing a mode of transport; it's about unlocking a vibrant world of adventure, efficiency, and style, perfectly aligning with their energetic and explorative spirits.
Commuting with Power and Speed
For quicker daily commutes, look for e-trikes with:
500-750W front-drive motor for rapid acceleration and hill climbing

15-25 mph top speed to save time while remaining legal

Step-through low standover frame makes mounting easy while wearing work clothes

Hydraulic disc brakes

allow quick, safe stopping in traffic

Integrated LED or LCD display

shows speed and battery level at a glance

Thick puncture-resistant tires withstand potholes and debris

Suspension absorbs bumps and vibration from uneven roads

Cargo rack, basket, or panniers

to carry work items and gear
Weekend Adventure Trips
For all-day rural and trail adventures:
Durable aluminum frame withstands rugged terrain

Front and rear suspension absorbs bumps and vibration on uneven trails

35-50 mile battery range lets you explore farther

Swappable extra battery packs extend range as needed

Bright integrated lighting illuminates trails after dark
Hauling Gear for Hobbies
For hauling bulky gear and equipment:
Sturdy steel frame supports heavy loads

High cargo capacity with heavy-duty rear rack

Optional cargo trailer expands hauling options

Waterproof storage compartments keep valuables protected

Disc brakes ensure safe stops with heavy load
Long-Distance Touring Comfort
For comfortable multi-day touring trips:
Step-through frame allows easy on/off between lodgings

A padded seat prevents soreness

Adjustable handlebars cater to varied hand positions

Removable

lithium

batteries extend the range between charging points

Suspension absorbs vibration to reduce fatigue

Durable anti-rust coatings protect from elements
For young riders, selecting the ideal three-wheel e-bike means equipping themselves with a versatile companion for their varied endeavors, from the hustle of daily commutes to the thrill of weekend explorations, embodying a seamless blend of modern mobility and youthful exuberance.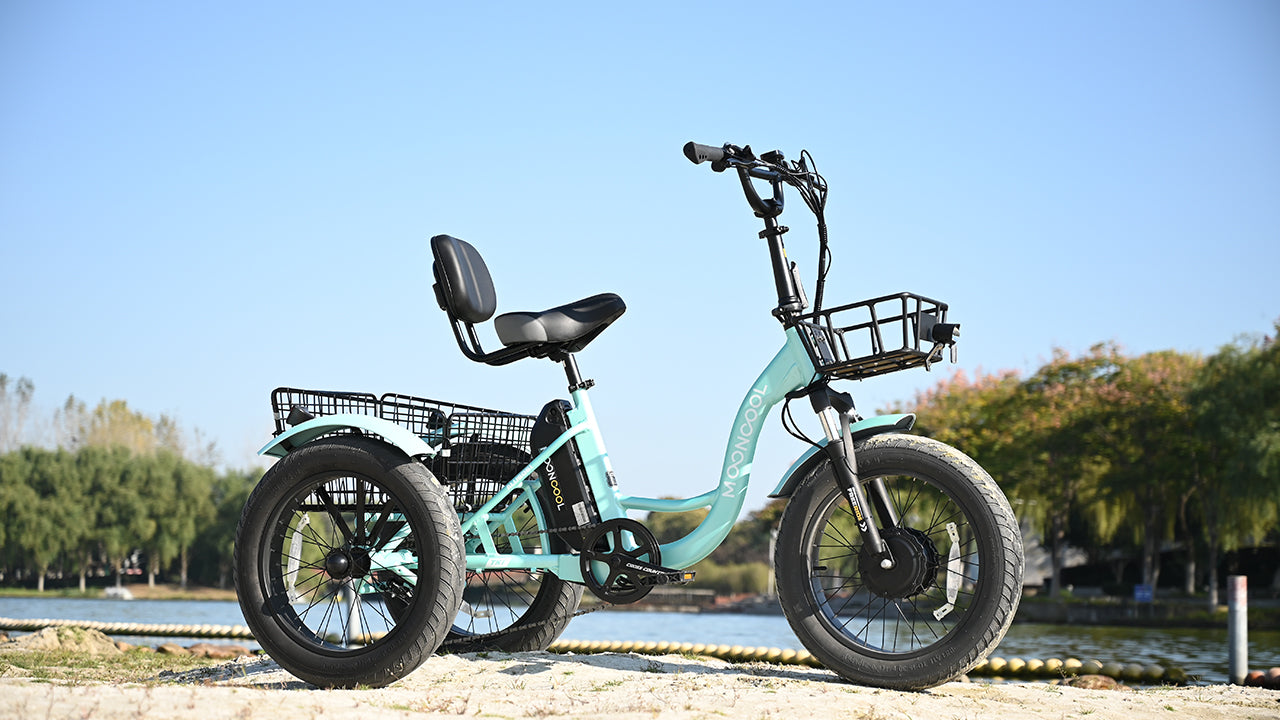 2. Key Considerations for Seniors When Choosing a 3 Wheel E-bike
Selecting the right three-wheel e-bike for seniors requires careful attention to specific needs and challenges associated with aging, ensuring not only comfort and safety in their travels but also enhancing their overall quality of life through mobility and independence.
Visiting Friends and Family
For riding across town comfortably:
Suspension absorbs bumps on uneven roads

A cushy padded seat prevents soreness

Upright posture avoids hunching and strain

Intuitive throttle and brakes for confidence

The rear basket carries gifts, food, or other items

Adjustable components customize the fit

Bright integrated lighting for visibility
The seat, backrest, and suspension provide comfort over bumpy roads. Carry items for friends and family securely. Easy controls inspire riding confidence.Know more benefits when visit family: Cruise to Grandma's House in Style: Riding Your Electric Trike to Family Holiday Visits
Exercise and Fresh Air
For getting light exercise outdoors:
Pedal assist provides exercise without overexertion

Adjustable seat, bars, and stem fit your flexibility

Integrated bell and lights for safety

Bottle cage and carrier for essentials

Smooth, stable handling prevents fatigue
Pedal assist provides light cardio at your own pace. Components adjust to your comfort and need for pain-free riding.
Sightseeing Excursions
For exploring new sights:
Motor power and stability for hills/unevenness

Tires with tread for traction on loose terrain

The rear basket carries souvenirs and shopping

Integrated lights to see landmarks at night
Mount a phone to navigate sights confidently. Safety features allow riding at night. Bring home mementos from the day.
Group Rides
For group rides and socializing:
Upright posture allows conversing easily

Cushioned seat with backrest for comfort

Integrated lights make early/late rides possible

Bell or horn to signal others in a group

Rearview mirrors enhance situational awareness

Bright colors and accessories show group spirit
The upright position and seat make chatting effortless, even on longer rides. Integrated lights expand possible ride times.Click Why Electric Trikes are Perfect for Neighborhood Meetups and Friend Dates? to learn more about the benefits of electric tricycles for group rides.
Ultimately, catering to the unique requirements of seniors in choosing a three-wheel e-bike is not just about ensuring a comfortable ride; it's about empowering them with the freedom and confidence to engage actively and joyfully in their everyday activities, from social visits to outdoor adventures.
3. Focusing on Disability Needs When Choosing a 3 Wheel E-bike
Choosing the right three-wheel e-bike for people with disabilities goes beyond mere transportation; it's about crafting a gateway to greater freedom and self-reliance, ensuring that every journey is as comfortable and empowering as it is accessible.
Mobility and Access Enhancements for Lower Limb Impairments
For Those with Lower Limb Mobility Impairments:
Step-through frame with a lowered height

for seamless transfers from a wheelchair or seated position without requiring significant leg movement.

Front-drive motor with adjustable torque settings

to provide customized assistance levels, making pedaling less strenuous for those with limited leg strength.

Ergonomically designed cushioned seat

with lumbar support to enhance comfort and reduce strain during prolonged rides.

Adjustable pedal cranks

with customizable length and resistance allow users to set the most comfortable pedaling position and effort level.

Hydraulic disc brakes

with easy-to-use hand controls ensure reliable and gentle stopping power, which is crucial for riders with reduced leg strength.
Stability and Control Features for Balance and Coordination Challenges
For Those with Balance and Coordination Issues:
Stable 3-wheel design with a

low center of gravity

to enhance balance and reduce the risk of tipping over.

3-5 inch

wide fat tires

for improved stability and grip on various surfaces, including uneven terrain.

Tire treads are specifically designed for

superior traction

on loose or slippery surfaces, enhancing safety.

Suspension front fork

to absorb shocks and vibrations, aiding in smoother rides and better control.

Simplified LED or LCD display with easy-to-read fonts showing speed, battery level, and other essential data, suitable for users with coordination challenges.
Joint-Friendly Design Elements for Joint Disorder Accommodation
For Those with Joint Disorders:
Ergonomic design to maintain a natural, relaxed posture, thus reducing strain on the back and hips.

Padded seat with memory foam and ergonomic handlebars designed to minimize pressure points and provide a comfortable grip.

Progressive acceleration and braking system offering smooth transitions, significantly reducing the impact on sensitive joints.

Lightweight step-through frame with easy-grip handles for effortless mounting and dismounting, ideal for those with restricted joint mobility.

Front shocks are specifically calibrated to absorb minor jolts and vibrations, providing a smoother ride and further protecting sensitive joints.
The thoughtful selection of a three-wheel e-bike tailored to disability needs is a step towards nurturing independence and joy in mobility, enabling individuals to explore their world with confidence and ease and truly inspiring a sense of limitless possibility.Explore more features for disabled: How Electric Trikes Empower the Disabled with Enhanced Mobility?
Choosing the Right Electric Tricycle for Your Specific Needs
With an array of e-trikes to choose from, take time to choose models that align with your priorities, whether that's power for young riders, stability for seniors, or accessibility for the disabled. Focusing on the specs and features that suit your needs will lead you to find the perfect electric tricycle to provide enjoyment, functionality, and independence. With an electric tricycle tailored for you, enjoyment of cycling and newfound freedom await!